Congratulations to our superstar undergraduate researcher, Laura Marmolejo! Laura was awarded the prestigious 2022 Texas A&M College of Agriculture and Life Sciences Dean's Award for Outstanding Undergraduate Research. Laura was recognized for her many research accomplishments, including multiple award-winning research presentations and a first author publication in the journal of chemical ecology! You can read more about her research on "Defense Suppression through Interplant Communication Depends on the Attacking Herbivore Species" here. This fall, Laura is heading to Michigan State University to pursue a M.S. in the Szendrei lab.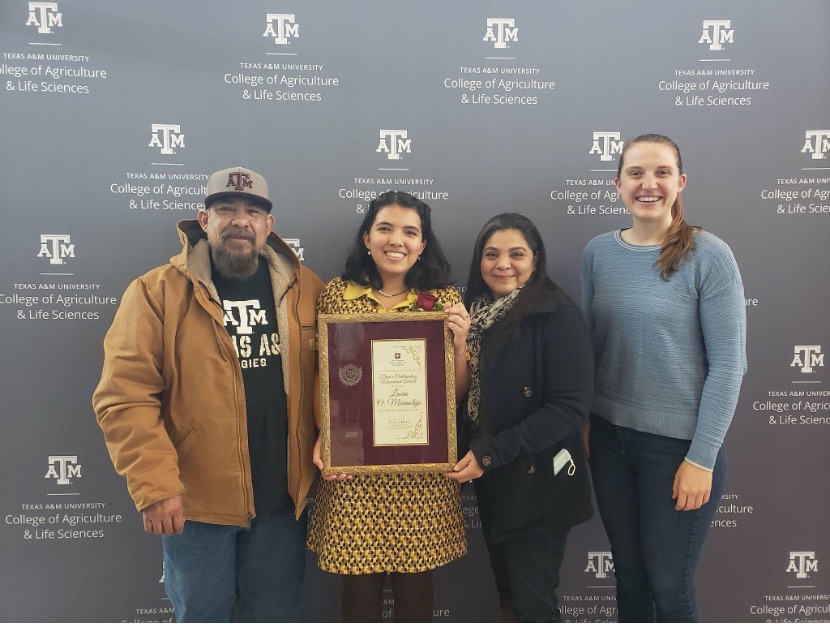 Laura at the Dean's Awards Ceremony with her parents and grad student mentor Morgan Thompson.
Congratulations to our Ph.D. student, Morgan Thompson, for several achievements this past semester! Morgan received a number of awards this spring for her excellence in research and service. She won a prestigious Sigma Xi 'Grant in Aid of Research' for her project on the role of microorganisms in plant defense titled: "Playing the wild card: comparing microbial communities of domesticated and wild plant species for resistance to insect herbivory". This summer, Morgan is conducting her first experiment related to this project in collaboration with USDA ARS scientists, Charles Suh and Lindsey Perkin. Morgan also received the Texas A&M Department of Entomology Outstanding Ph.D. Graduate Student Award in 2022. This award recognizes exemplary research and service contributions to the department. For her work as the President of Aggie Women in Entomology (AWE) and her mentorship of undergraduate students, Morgan also received the Ethel Ashworth-Tsutsui Memorial Award for Mentoring in 2022 through the Texas A&M Women in Science and Engineering and the Texas A&M Accountability, Climate and Equity (ACE) Women's Progress Award – Student for 2022, which is awarded to individuals who demonstrate commitment to an improved environment for women. On top of all of that, she advanced to candidacy this semester as well!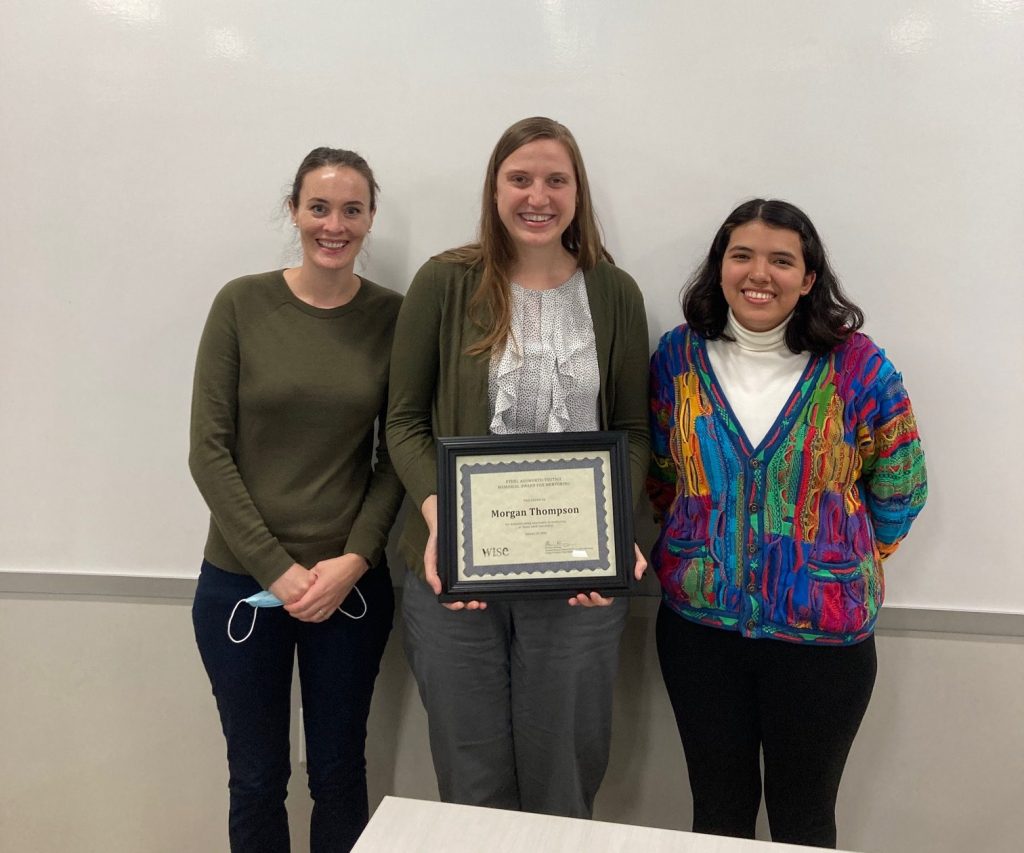 Anjel, Morgan, and Laura at the Ethel Ashworth-Tsutsui Memorial Award for Mentoring Award Ceremony
This spring, several Helms Lab members participated in the Texas A&M Student Research Week Symposium and the Southwestern Branch Entomological Society of America Meeting and were recognized with multiple presentation awards.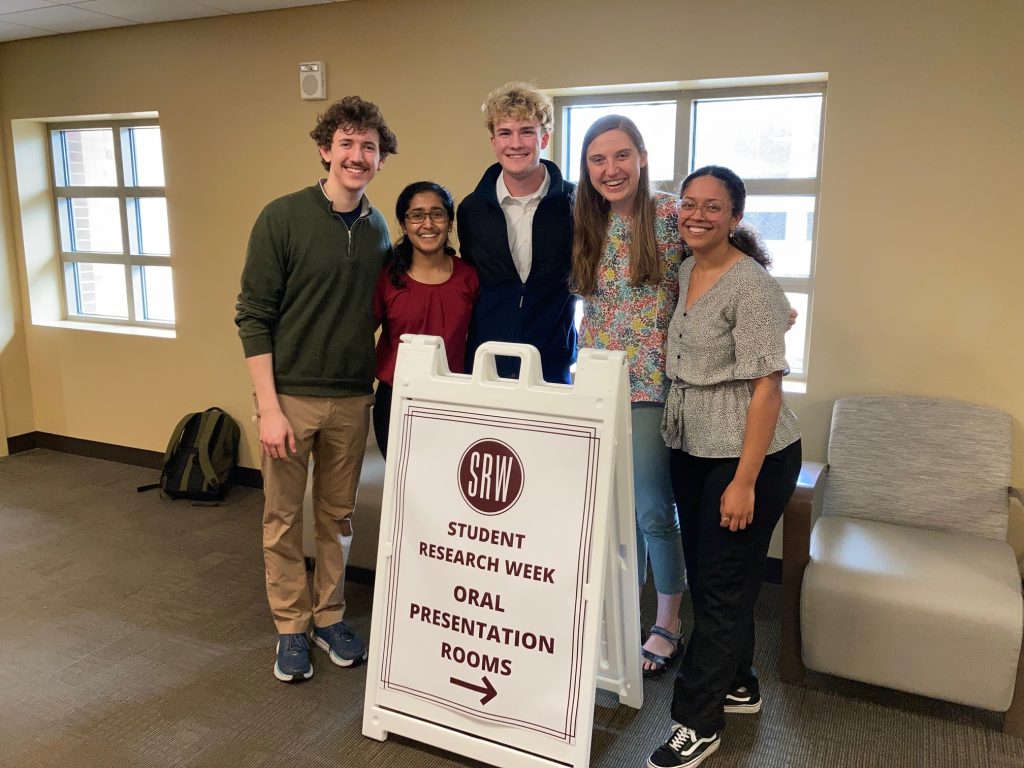 The Aggie Research Program Team (Jayda, Rachel, Jack, and Gage) recently won 2nd place in their category during Student Research Week for their presentation, titled "Signals From Down Under," which examined the effects of belowground herbivory on neighboring aboveground plant defenses.
At the Southwestern Branch ESA meeting, Laura Marmolejo was awarded first place in the undergraduate student competition where she presented her research titled "Different interpretations: Herbivore-induced plant volatiles elicit different defense responses in inter-plant communication between heterospecific and conspecifics." Morgan Thompson presented her recently-published review paper in a talk titled "How the chemical ecology of host-associated differentiation improves natural enemy selection for biological control". This manuscript can be found here. John Grunseich presented a poster on his recent findings titled, "Linking maize enzymes to herbivore defense."
Morgan and John also competed in the Entomology Games on the Texas A&M team where they won first place and will now be traveling to Vancouver, Canada to compete at the national Entomological Society of America meeting in November.
In May, Natalie and Anjel traveled to their undergraduate alma mater, Pepperdine University, to participate in a symposium honoring the research and teaching legacy of their former mentor Stephen Davis. Anjel gave a talk on "The Case for Engaging Undergraduates in Research: Sparking Inspiration and Building Practical Skills".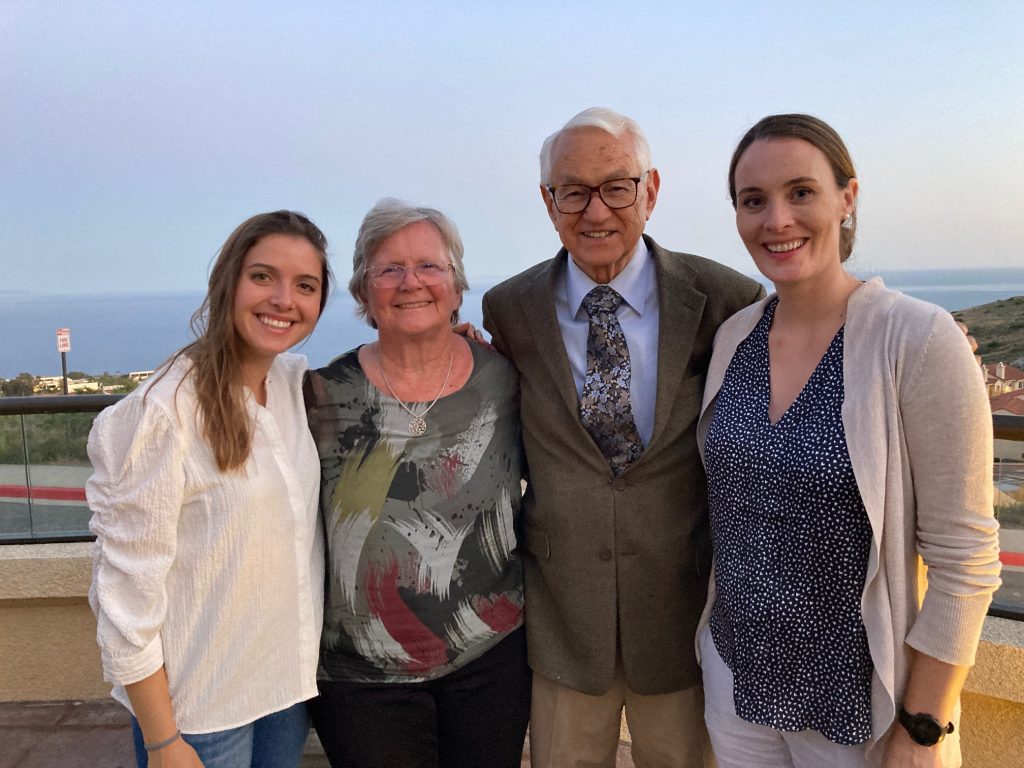 Natalie, Janet, Steve (Dr. Davis), and Anjel at the Pepperdine Symposium
In April, Anjel also got to travel to the University of Nebraska in Lincoln to present a seminar on "Chemical Cues Linked to Risk: How Organisms Navigate Conflict in a Chemical World." She was able to meet with many of the UNL graduate students, members of the Louis lab, and researchers at the local USDA ARS.
The Helms Lab also got together for dinner to celebrate the end of a successful school year, many student awards, several presentations, our new M.S. student (Adriane), and 2 students (Natalie and Morgan) passing their qualifying exams!